Sport England Autumn and Winter Activity Toolkit
Posted: Tue, 10 Nov 2020 10:30
Sport England research has shown that coronavirus (Covid-19) has made it much harder for people to get active and we know the change of season will only make it more difficult.
To help inspire and motivate people in our communities to continue to be physically active, Sport England have produced an Autumn and Winter Activity Toolkit that's packed with resources and information.
Sport and physical activity deliver immediate mental health and social benefits, while having a long-term positive impact on our physical health.
Getting active in the way that's right for us – and planning how we're going to keep going through the colder, darker months – will help us cope with the ongoing impact of coronavirus restrictions.
The Autumn and Winter Activity Toolkit, curated by Sport England, will make it easier for anyone trying to help their communities find the locally relevant tools, advice and information they need to get and keep moving. Find out more on Sport England's website.
Government Guidelines
On Thursday 5 November new national restrictions came into effect to try and help curb the spread of coronavirus (Covid-19).
These restrictions have a significant impact on grassroots sport and physical activity with many facilities closing and limits placed on the number of people who can take part in sport and physical activity together.
You can find more information on the Sport England website. Including answers to frequently asked questions, government guidance and inclusion and accessibility.
Links to ideas and inspiration
Our Get Active at Home webpages have ideas and inspiration to help you this Autumn and Winter.
There are some more ideas below.
Join the Movement
Online activity timetable – including a selection of free and paid-for virtual classes to suit all ability levels.
Outdoor activity advice – tips, advice and guidance on getting active outdoors safely.
Active at home resources – a selection of online exercise platforms providing free access or extended trials.
This Girl Can
Activity finder/Feel inspired– including a mix of virtual and in-person activities and inspiration targeted at women of all ages.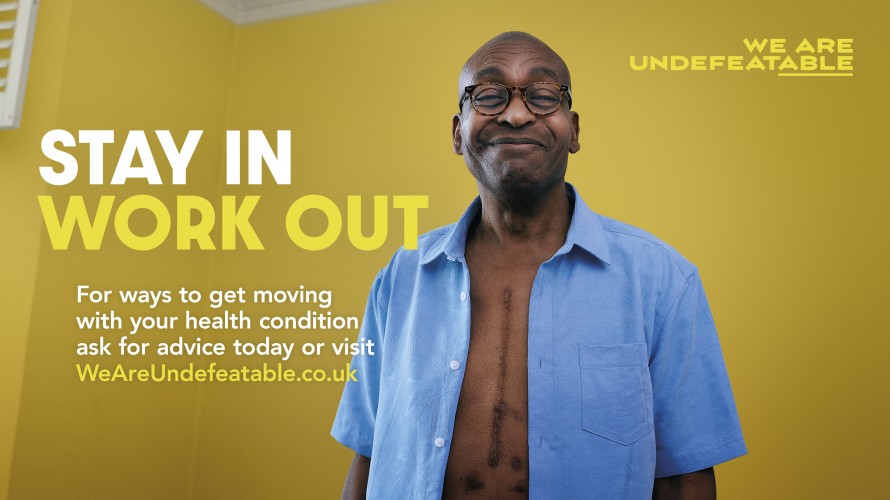 We are Undefeatable
Ways to move – inspiration and resources to help people with long term health conditions get active.
Getting started – ideas and advice on getting started.